Welcome to Mill Street Crepe Company. We are a licensed restaurant located in Almonte, Ontario. We are open seven days a week for lunch and Thursday, Friday & Saturday for dinner from 5pm. We offer gluten-free crepes!


As a boy, some 80 years ago, I really looked forward and enjoyed going shopping with my mother and father to West's General Store. It was an education to see and experience how things were done in this very interesting place of business. They sold everything imaginable and all products in bulk – Turpentine, Coal Oil, Molasses, Corn Syrup, Yard Goods, Sewing Needs, Crocks of Butter. All the candy came in large barrels. The items were endless, Overalls, Aprons, Straw hats, if you could name it West's had it. After West's, The Almonte Cold Storage was born under the ownership of JL Erskine and Alex & Milton Symington. The transition continued as Cold Storage turned to The Butcher Shop, The IGA, The Hardware Store, Stedmans and now a beautiful Mall and this beautiful Creperie. As the sign says 'A little taste of France right here in Almonte'.
Special thanks to Murray S. Guthrie for writing this great piece.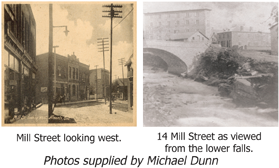 Executive Chef Theo Yeaman welcomes you to Mill Street Crepe Company
During my 12 year cooking career I have been very grateful to work at some of the finest restaurants both in Canada and in Europe. As a young boy growing up in Almonte, I can remember being interested in cooking, either helping out in he kitchen or preparing the meal myself. When I was about 10, my parents were returning home late from work so I decided to make fish and chips from scratch for dinner. I found the recipe in the book and made the entire thing myself, even serving the meal wrapped in newspaper as they did in Britain.
Now I'm back in Almonte to partner in this very exciting new venture with Gord and Bonnie Pike. My philosophy on food has always focused on using the best ingredients available to you and treating them with care and proper techniques. This is especially important now, buying close to home and what's in season, hence "the best available", with all the rising costs of food and transportation. At the Mill Street Crepe Company we will be using local farmers, butchers, foragers and businesses whenever possible. I believe it is very important to support the community and be engaged in the production side of the food chain.